AR/XR
Designer and Director

---
AUGMENTEND PERFORMANCE STUDIO AR WORKSHOP 2022
CLIENT: SCHOOL OF THE ART INSTITUTE OF CHICAGO POSITION: AR EDUCATOR
TOOLS: SPARK AR, ZOOM, PERFORMANCE
Augmented Performance Studio
is a 4 hours workshop created when I had the honor of being a guest artist at the School of the Art Institute of Chicago. The experience was tailored for the Mixed Reality Performance class, taught by Mark Jeffrey and Judd Morrissey. The workshop offered an opportunity for students to explore the intersection of AR and performance, using Spark AR, hand-tracking techniques and performance dynamics.

The workshop was taught via Zoom with the assistance of in person professors and graduate assistants





TOPICS COVERED



During the workshop, we explored various topics related to augmented reality, such as:


Introduction to Augmented Reality (AR)

History of AR

Introduction to AI, Deep Learning, and Computer vision

Current State of AR and Future Possibilities

Presentation of my past works in the field

Conceptual and Poetic Approaches to Augmentation and Algorithms

Body Warm-up Focusing on Hands

Hands-on Spark AR Workshop with Hand Tracking Techniques

Student's results presentation for Feedback

Some of the XR performance prototypes created by the students during the workshop



PREPARATION AND TOOLS

To fully immerse themselves in the workshop experience, students were asked to think about something intangible or virtual, such as a memory, a dream, or a future projection, and represent it as a word or simple drawing. They brought this 2D asset to the workshop in either PNG, JPEG, or SVG format. Students were also asked to download, install, and log in to Spark AR Studio, as well as have Instagram or Spark AR Player on their cellphones for testing and experimentation.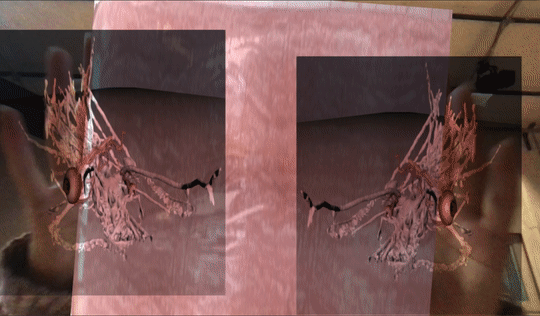 PREVIOUS WORKSHOPS AND CLASSES



In addition to this workshop, I have had the pleasure of teaching other classes related to AR:

2021 - Augmented Reality and Performance Studio (2h Workshop) at Interactive Telecommunications Summer Camp, Tisch, NYU
2021 - Augmented Reality and Performance Studio (2h Workshop) at Brooklyn College
2021 - Big Ideas in the Past and Future of Technology (Graduate Assistant) for Nancy Hachinger, Interactive Media Arts BFA program at Tisch, NYU